RESIDENTIAL & COMMERCIAL MAINTENANCE
Ground Works Land Design proudly offers full-service landscape maintenance programs, from spring cleanups to leaf removal in the fall. These custom maintenance packages are catered specifically to the details of your property and since 2009 have been our most trusted and sought-after service. Our team is passionate about keeping your outdoor space looking its best through a proven process and structured yearly contract.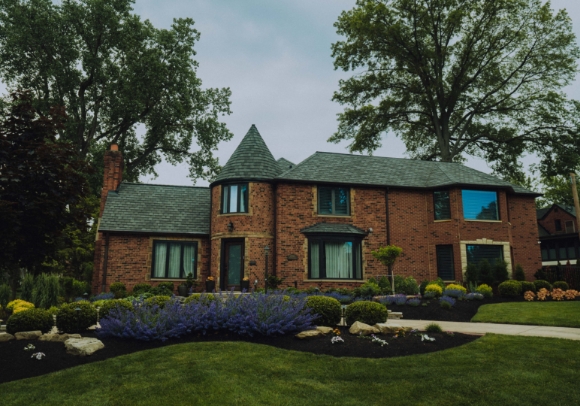 Landscape Maintenance Like No Other
As Cleveland's premier landscape company, we're highly skilled and experienced with a variety of property types.
Weekly Lawn & Bed Maintenance:
From April through November you're assigned one lawn crew that will visit your home on the same day each week to properly maintain your property. We can't guarantee a time of day, but we pride ourselves on consistency and we never end the day until our job is done. We always bag grass clippings during weekly mowing and finish the yard with custom stick edging to provide definition on landscaping beds.
These beds will be maintained, cleared of debris and weeded once you have received your Spring Cleanup and Mulching.
Spring Cleanup & Mulching:
Our Spring Cleanup starts with the clearing of leaves, branches, and clutter leftover from the late winter and early spring. We re-edge all landscape and flower beds to help with rainfall, prepare for mulching, and most importantly look better. We then apply the appropriate yardage of triple shred mulch to your beds. Reshaping and trimming trees and shrubs promotes healthy growth and helps your property look beautiful all season long.
The crew performing this work is not your assigned weekly lawn crew. Please reach out to your account manager to confirm your Spring Cleanup and mulch date.
Mid Season Pruning:
Mid-season pruning is typically performed in the month of August. During the summer, pruning is important as most plant life is rapidly growing. Our crewmembers will perform 'thinning cuts' or 'reduction cuts' and 'deadhead' flowers and plants as needed. This time of the year is ideal for shaping hedges as well. This helps the continued growth and appearance of your landscaping.
Fertilizer:
All fertilization services are performed by Custom Lawns. While they are a separate company of Ground Works, they share the same values in customer service and property maintenance. Most fertilizer programs consist of six applications, with the first in early spring and the last in November.
Please don't be confused or concerned if you happen to see Custom Lawns uniformed workers on your property.
Irrigation Maintenance:
We've upped our irrigation services by adding an extra visit to your contract. Our sister-company, Irrigation Works, will perform a backflow test and turn-on in spring, an early summer checkup to ensure your system is efficient for the most critical time of the season, and finally a blow out and winterization in the fall to prevent damage in the cold months.
Learn more about Irrigation Works below.
www.irrigationworksandlighting.com
Fall Cleanup:
Your leaves will be maintained by your weekly lawn crew. When leaf fall becomes heavy in November, additional crews will begin to assist with the cleanup at your property. In addition to cleanup, these crews will also help complete fall pruning, which consists of trimming shrubs, grasses, and cutting back your perennials. Leaf cleanup will continue even after mowing has been completed for the year. All leaves will be blown to the curb for your city to pickup. If necessary, Ground Works will haul away additional debris after city pickup has concluded.
One Crew all Season
From April through November, your assigned lawn crew will visit your home on the same day each week to properly maintain your property.
If poor weather conditions, we shift our weekly schedule accordingly. We will work on Saturdays if needed and you will be notified about any type of schedule adjustment.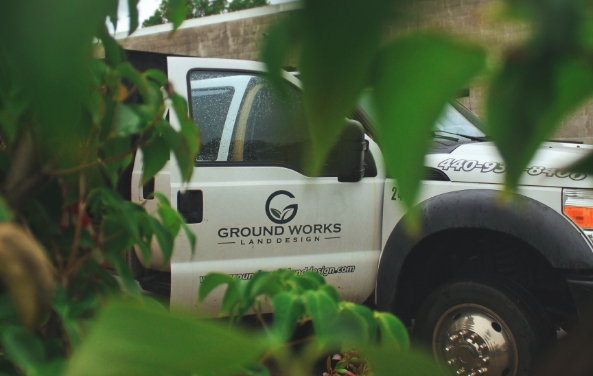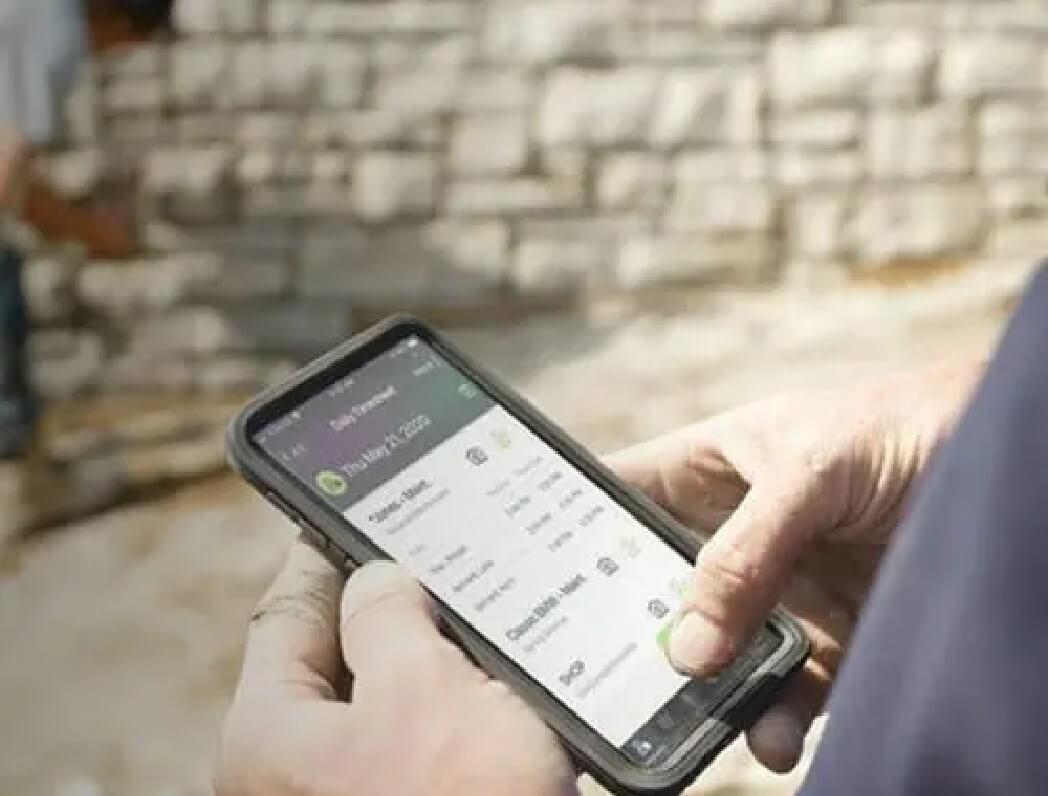 Customer Portal
Providing more communication and trust between both parties is something we take very seriously.
We're so confident in our work that we give you complete transparency through our Customer Portal. This portal allows you to see real-time landscape updates and gives you property photo access. You can also review job information and quickly make landscape requests all from one easy to use app.
Commercial Maintenance
We help you and your team put your best foot forward before your customer even enters the building.
When it comes to your business, we know first impressions matter. Let us alleviate the headache of your property appearance and design a maintenance package that works for you and the business.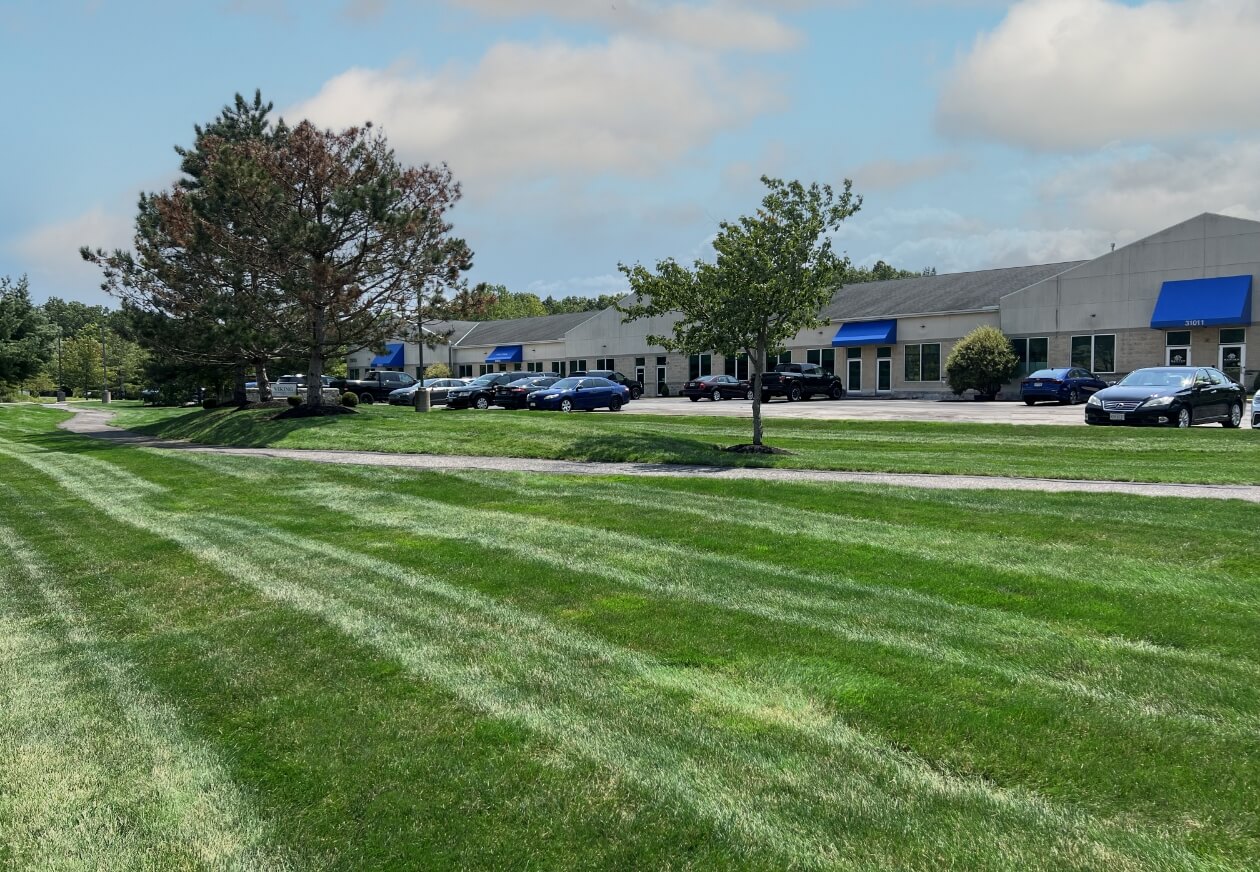 Add snow removal to your maintenance program
We put all the same attention to detail from our landscape maintenance into our snow removal services.